Details:

The Yumi Bar 1500 Puffs Disposable Kit is a small, easy to carry disposable pod system. Each kit can last up to 1500 puffs and the flavours taste great. It is harmless to others and the environment with no danger of second-hand smoking. No ignition and fire required and does not emit any smell. It uses vacuum packing to keep the vape clean and healthy. Vacuum packaging prevents the liquid from evaporating and the airflow working automatically. It helps to keep the original taste and giving you a better experience.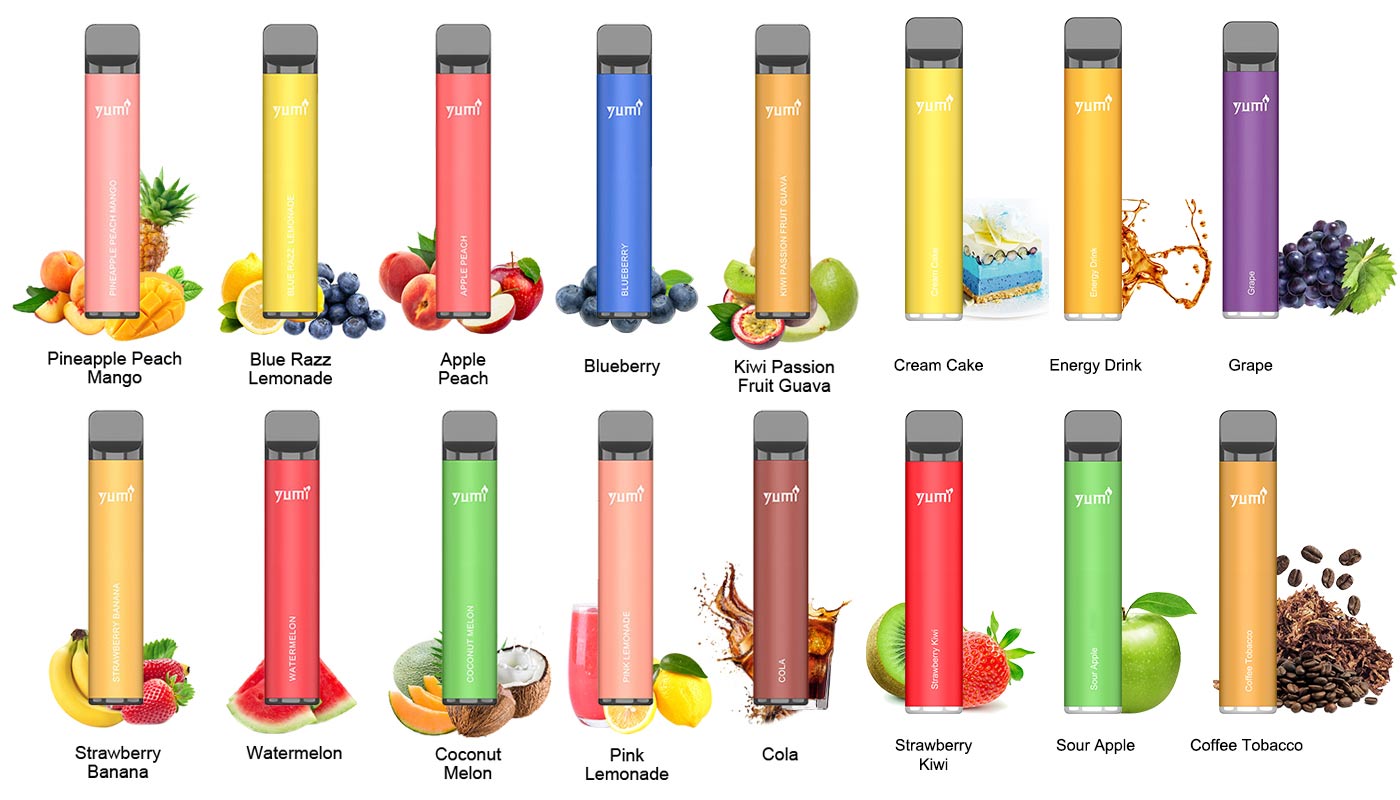 Technical Data:
Unit: 1 Set/10pcs Box
Capacity: 4.8ml
Battery: 850mAh
Puffs: 1500
Nic Strength: 50mg
YUMI Bar 1500 Disposable Flavors:
Blueberry: Rich and sweet dark blueberry e-juice.
Blackcurrant: A distinctive flavor of sweet fruity deliciousness and ice menthol.
Grape: The nostalgic taste of grape candy.
Mango: The distinct tropical flavor of fresh mango.
Watermelon: Refreshing, icy and juicy watermelon flavor, perfectly sweet.
Mixed Berries: A tasty berry mix with deliciously sweet strawberries, raspberries, and blueberries.
Pineapple Ice: Tropical pineapple flavor mixed with icy menthol.
Pink Lemonade: Tart and sweet lemonade with berry notes throughout.
Strawberry Banana: Creamy layers of banana wrapped in the sweet and tangy flavor of strawberries.
Strawberry Ice: An icy sweet blast of vine-ripe strawberries and crisp mint.
Strawberry Kiwi: A satisfying blend of scrumptious strawberry and killer kiwi.
Sour Apple: Green, tangy apple with sour aftertaste.
Blue Razz Lemonade: Delightful tart blue raspberry candy flavor mixed with tangy sour and sweet lemonade.
Kiwi Passion Fruit Guava: This tropical mix combines kiwi, exotic passionfruit, and guava for an irresistible summertime blend.
Menthol: A powerful palate cleanser of slightly-sweetened menthol.
Cream Cake: A fried sponge cake topped with a dusting of sugar and blended with a bit ice.
Cola: Classic candied soda flavor blended with ice.
Energy Drink: An exhilarating mix of sweet and sour flavors.
Coffee Tobacco: A rich milky coffee layered with a luxurious fine tobacco blend.
Vanilla Tobacco: A smooth and robust vanilla tobacco blend.
American Tobacco: A classic tobacco flavor with slight sweetness.


Package Includes:
1* Yumi Bar 1500 Puffs Disposable Kit